Ford's Terror is a very steep and narrow fjord 60 miles southeast of Juneau in Alaska's Inside Passage. It lies within the Tracy Arm-Ford's Terror Wilderness.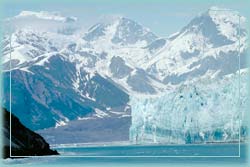 Ford's Terror juts off from Endicott Arm, a larger inlet that extends more than 30 miles into the rugged, ice-covered Coast Mountain Range, to a glacier that actively calves icebergs into the fjord. These two inlets are stunning examples of the influence glaciers have had - and continue to have - on this region. Ford's Terror displays the deep gouging effect glaciers can have, while Endicott Arm showcases the smoothing effects of glacial activity with its rounded ridge lines and gentle shore.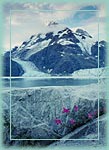 Ford's Terror is named after the naval crew member who, in 1889, rowed a dinghy into the narrow entrance of the fjord at slack tide. The tide began to rise, forcing its way through the bottleneck entrance into the fjord, and Ford was trapped in the turbulent currents for the next "terrifying" six hours. We will camp above that entrance, where we can fully appreciate Ford's terror, but for us, equipped with tide tables and forewarned of the danger, the experience is more one of wonder.
We begin our expedition with a dramatic sea plane flight or boat ride from Juneau, which leaves us at our campsite within the sheer walls of Ford's Terror. After assembling our kayaks and learning and practicing safety and basic skills, we spend two days exploring the fjord and the valleys at its head by foot and kayak, observing brown bear tracks and the sheer cliffs and cascading waterfalls.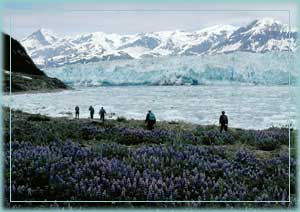 As we depart Ford's Terror we relive the 1880 trip of famous naturalist John Muir:
". . . we found ourselves on a smooth mirror reach between granite walls of the very wildest and most exciting description, surpassing in some ways those of the far-famed Yosemite Valley."
- John Muir, Travels in Alaska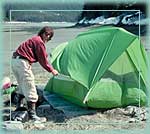 This night we camp at a wonderful site at the narrow entrance of the fjord. Here we watch the turbulent iceberg-laden current change direction every six hours while we imagine the "terror" that Ford experienced a century ago. We anticipate the possibility of a black or brown bear sighting on the opposite side of the channel while we eat a wonderful dinner. We also take a short hike through our first glimpses of old growth temperate rain forest and we view lily-covered mirror ponds.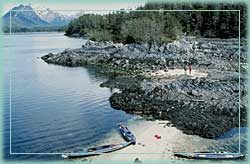 As we enter Endicott Arm we begin our paddle within the realm of ice and marine life. Here we experience first hand the majesty of paddling by these incredible blue and white natural ice sculptures. If we have chosen an active 7-day trip, we have the option of paddling up the arm to view the source of all the icebergs, the Dawes glacier, where we can drift among the ice as more bergs calve noisily from its looming terminus. As we paddle out Endicott Arm we may encounter a pod of orcas or a humpback whale. We can also anticipate seeing harbor porpoises and seals as we paddle along the forested fjord and explore the rocky shoreline and marine environment until we arrive at a beautiful unnamed salmon river. Depending upon the time of summer we can witness first hand the stunning and mysterious "running of the salmon." We walk out into the river and watch as hundreds of chum salmon swim furiously in all directions, including between our submerged feet. Here we see the evidence of bear habitat with claw marks on trees and half eaten salmon carcasses spread about for the bald eagles and ravens to feast upon. We also may hike up the river or explore the intricacies of a Sitka spruce-western hemlock old growth rain forest.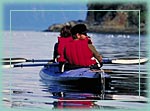 Depending upon the length of the trip we will be picked up at this spot or continue on to a further site. If we continue on we may cross Endicott Arm, exploring the Bushy Islands along the way, to an old mining claim where we can see pilings and rusted mining equipment. We will walk up a fascinating creek to a superb swimming hole. From here we will paddle back through the Bushy Islands to our pick-up at the outwash stream of Sumdum Glacier. Here we're afforded wonderful looks into the rain forest and, for the first time, muskeg peat bog.
This trip is special and different from others in the relationships we witness between glacial activity and influence and the rich diversity of an old growth forest.
Trip Name: Ford's Terror

Length: 5-7 active days

Distance Paddled: 40-60 miles

Activities: Paddling, fishing, photography, widlife viewing, hiking, swimming

Highlights: Paddling among giant icebergs & below towering cliffs; wilderness solitude, Ford's Terror tide rips, old-growth rain forest.
Pricing: Prices are per person.
Ford's Terror 5 day $1775.00
Ford's Terror 7 day $2812.00
Electronic mail request: spiritwalker@glacierbaytravel.com
A 50% deposit is due at the time of booking and the balance is due 30 days prior to the trip's departure.
Included in the price: all charter transportation, 2 person kayaks with accessories, emergency communication, signaling and first aid equipment; all cooking gear, utensils and superb meals; water bottles; 2 person tents; sleeping bags and pads; rain gear, rubber boots and dry bags.
Not included in the price: personal clothing, getting to and from the departure town and activities before and after the trip.